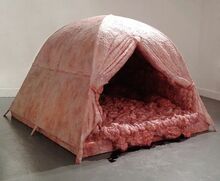 Do you need that getaway break? Have you been saying you need a holiday, but never actually take one? 
Never fear. Coming to you from BnK Industries comes the Caucasian Tent!!
Caucasian Tent is formed entirely by human flesh and stitched together with fine human hair. The tent holds via spinal-welding, a handcrafted 17 piece spinal structure. Inside the tent is the contents of 3 gut buckets to tend for the comfortable at-home feeling. The hood of the tent is shredded skin from the human(s), which is then collected in a giant container and pressed into a pancake-like sheet. The skin is then sprayed, oiled and rapidly heated before being used as a textiles material.
So, what are you waiting for!? Come on down to the Mansion of Delight's and purchase your very own Caucasian Tent for just £129.99 today! *Prices may vary on weekends inc. Friday *Guts nonrefundable *Caucasian Tent is EXTREMELY FLAMMABLE. No naked flames
Ad blocker interference detected!
Wikia is a free-to-use site that makes money from advertising. We have a modified experience for viewers using ad blockers

Wikia is not accessible if you've made further modifications. Remove the custom ad blocker rule(s) and the page will load as expected.