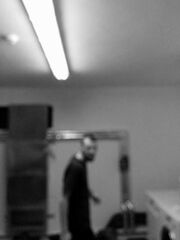 About the CCTV Footage
Edit
Down in the Basement we caught Scran wearing human clothes and have discovered chewed holes in the wires that run electricity into the washing machines. This area is OUT OF BOUNDS to ALL members. A warning has been set for everybody within The Mansion of Delights.


Other Scran destruction includes: Holes in socks, bits of paper consumed and spewed back up, fluff from the washing machine spewed up and several bin bags containing tangerine peels, banana skins and kiwi skins have all been consumed.


Scran hasn't been seen since, but the clothes he was wearing have been found tossed aside by the Laundry Room just outside the Basement.
Ad blocker interference detected!
Wikia is a free-to-use site that makes money from advertising. We have a modified experience for viewers using ad blockers

Wikia is not accessible if you've made further modifications. Remove the custom ad blocker rule(s) and the page will load as expected.