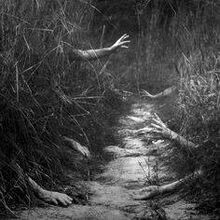 The only person 'allowed' to pass through this final length of the Maze is Barry. Nobody understands why this is, but for every other challenger they have never succeeded. Not by death, as these mysterious arms have respect for people but, they will hold you down under mass pressure and squish their victims deep into the mud. The victim will be submerged in Earthly clay, roots and dirt for 5 minutes until arriving back at the beggining of the Maze.
A wonderful yet daring challenge. Barry has this to say: 'I have tried to talk to these people, until I pushed aside the bushes and saw only an unexplainable ending of human arms. They seem to grow like plants and and live through photosynthesis. I have been on my rounds watering these arm-plants and they happened to stroke and hug me, respectfully. Others? No. Not the others, they have a hard time with the arms.'
Ad blocker interference detected!
Wikia is a free-to-use site that makes money from advertising. We have a modified experience for viewers using ad blockers

Wikia is not accessible if you've made further modifications. Remove the custom ad blocker rule(s) and the page will load as expected.